I skipped a couple weeks, but I'm here now. Hellloooo.
It's May! Honestly, where has the time gone? Why does it move so quickly?? What is the meaning of it all?!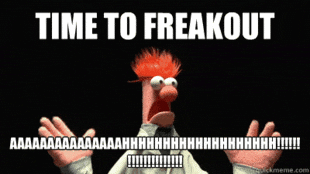 Anywho, now that that mini-existential crisis is out of the way, on to the main event.
MY MAY GOALS:
I am going to FULLY, REALLY, TRULY, SERIOUSLY get back on my 5am wake up schedule and study grind. I have been majorly slacking, and it's time I kick my butt back into gear. This morning was a definite struggle, but tomorrow is a new day!
Find a good balance between going out/spending money and staying in/watching Netflix. If I do too much of either, I end up burnt out, or feeling guilty for neglecting my responsibilities. I can achieve this balance by really checking in with myself and assessing both my emotional and financial resources before deciding what to do with my time. Yay mental health and being responsible!
Follow through on promises I make–to myself and others! This one is pretty self-explanatory. It also goes along with keeping to my study schedule and such.
Those are the big three! When I try to tackle more than that it doesn't tend to end well. It's important to set goals and really strive to achieve them, but I believe one must also be aware of one's own capabilities. I often spread myself too thin, and that typically leads to me half-assing a bunch a things.
Okay, so it's more than one thing, but still. You get my point.
Other things that will be going on this month:
continuing along my fitness journey (workouts & meal prep)
blogging (please love me by continuing to read my posts!)
dating (for the record I deleted all my dating apps, but more on that later)
my mommy's birthday!
general all purpose adulting
I'm excited for another month! And I'm even more excited that it started on a Monday. It's just so satisfying. Alrighty, time for me to hit the hay. (What a weird expression for a city girl.)
Until next time!
❤ Severn