Three days late is better than never!
1. CHOOSE TO BE F*CKING HAPPY!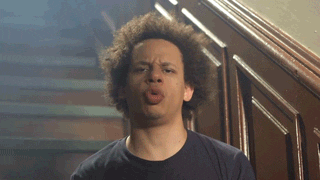 This is literally my only goal this month. Yes, I know it breaks the cardinal rule of goal-making: be SMART (specific, measurable, achievable, relevant, time-bound). Okay, so it breaks the "SMA" rule.
BUT.
It's the only thing that matters to me right now. My life feels so up in the air. The only thing in my life that makes me truly happy lately is Beau and our relationship. And that's not healthy–I know that's not healthy. It's not his fault, it's not anybody's fault. It's just the way my brain seems to be wired.
I don't want to feel like this, unsatisfied with my life. Every time I start to feel myself falling I try to remind myself of all my blessings. And there are a lot! They are objectively really awesome, but I still feel like… like I'm not doing enough.
I'm not deserving, I'm not good enough, I'm not really doing my best. I keep listening to all these personal development books, having deep talks with Beau about what I want to do with my life, and praying (no where near enough, but still) in the hopes of making myself feel better. And that all helps in the moment, but it never lasts.
Part of the reason my relief is so fleeting is because I'm constantly thinking about what I need to do to get where I want to be, to look how I want to look, to live the life of my dreams. I need to stop spending so much money, to work out more and eat healthier, to study harder so I can pass my exams, to stop getting distracted at work. I just feel so unequipped for this life of mine.
Part of me knows it's normal to feel this way because I'm a 23 year old woman, but that doesn't make it any easier to handle. I'm sick of feeling helpless, so instead I'm going to put all of my energy into being happy.
Easier said than done, I know, BUT I'm still going to try. Because I haven't fallen so far down the depression hole that I can't bring myself to at least give it a shot.
Okay, maybe one more "subgoal" if you will:
1a. Forgive myself when I need to, and remember that it is okay to feel things other than happiness.
Wish me luck, y'all. I need all the positive support I can get. 🙂
❤ Severn
*
*
*
featured image source: http://quotesblog.net/hello-november/